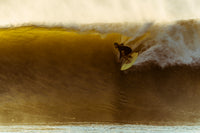 Ying Yang Twin
The Ying Yang has come about through a few years of tinkering and toying with the Aphex. Wanting something with a little more agility and quick-witted responsiveness, the rail was dropped, pulled in a bit, a little nip and tuck was made here and there, and out came the younger, over-caffienated sibling. We've been running these with channels or a more simple bottom shape with panel-vee under the back foot, finding joy on both as so much of the hold and drive is a product of the longer rail being engaged. Generally ridden slightly shorter than you would the Aphex, these are best from 6'3-7'0.
What's in stock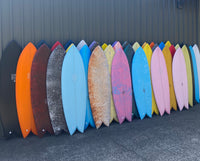 Shop Stock
All of our stock boards are in proven shapes and dimensions to bring you the best boards we possibly can. We've been working our asses off refining and tuning these for years so the guess work is done. With over 60+ boards currently in stock, skip the wait and grab one now..
Stock Boards
Steph Gilmore on a 5'3 Riches TW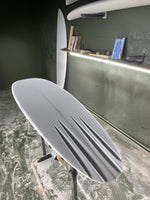 Aphex Twin
The Aphex Twin was a new model for 2020, although it was brewing for many years before that, a real all-rounder for those who enjoy some longer rail.  Using a tried and tested rocker with a forgiving mid boxy rail that gets very bitey in the rear third for sensitivity and hold with a nice tucked edge.  A soft single concave under the front foot to give a familar positive feel that gives a nice amount of pop and drive and a comfotable reliability. Combined with a deep four channel bottom that provides grip, thrust and a sensitivity rolling rail to rail under the back foot with ease. With plenty of paddle power, built for long drawn out arcs and quick adjustments, these are the fastest boards i've ever ridden and are hard to get off.  Most at home when there is wall to play with but still very comfortable in some softer slop. Best from 6'6 - 7'6 but happy to build them bigger to suit.
Shop APHEX TWIN'S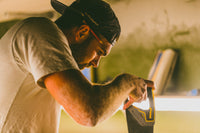 Support SMALL BUSINESS
In these wild and unprecedented times, it's important to remember the simple things.  Time with family and loved ones,  time in nature, more time surfing on a quiet empty peak.  Learn guitar, learn French, practise meditation, hell work on getting some abs if you've been talking about it.  It's important not to let this  overcome us. Just as important is supporting small independent businesses in these times, small business like ours, like Mark and his crew who glass and sand our boards, the Burfords crew that make the blanks, Jamie who prints the laminates, the neighbourhood baker, the nursey, even my local wine store is delivering.  Let's come together and support  local business in these trying times, as it will likely be supporting another and another and another. 
With discount shipping on all boards domestically and internationally, We appreciate all the continued support. Get a new board, it'll help you through these times and make a bigger impact than you'd think!
SHOP HERE